Items from TianRen Budogu
No results were found for the filter!
Tezashi Men 1.5bu - Premium Quality
While a tight stitching interval is often chosen because of the higher strength of the futon, the Tezashi Men with a stitching interval of 1.5bu focuses on the c ombination of a small interval and high flexibility. The Tezashi Men 1.5bu...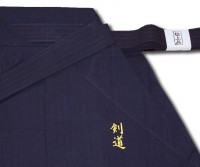 Embroidery Service
Your name on Hakama or Keiko-Gi? No problem for us. We offer individual embroideries in six different colours with your name in roman (romanji) or japanese (katakana) letters. Please inform us by mail about the details of your...
2 mm Professional Bogu
The distance between each parallel-running machine-stiched seam is 2 mm . The smaller the distance between the seams, the more durable and resilient the Kendo bogu is - and the better your protection! The complete bogu , including...