No results were found for the filter!

Shinai Bag Professional
There's plenty of room in there! Three Shinai, the Bokken and your Kodachi you can transport with this black sword bag . Don't you think? Then try it out! And so that the bag also lasts long, it is made of stable nylon with a circulating...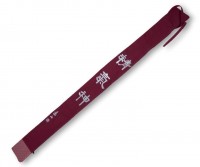 Weapons Bag Suiko
Something's gonna fit! The weapon bag SUIKO offers enough space for three Shinai, Bokken or Jo . It is made of cotton, lined on the inside and reinforced with leather at the bottom. It also brings a shoulder strap with it... more...